The power of professional graphic design in your hands and on your screen
The Front Porch Network team's August pick of the month is a powerful web-based design platform that makes it easy to create compelling graphics and images with just a few clicks. Canva offers its users millions of images, templates, fonts, and other design tools to create impressive visual content for social media, presentations, marketing materials and more. Its wide range of features, user-friendly interface, and robust customer service make it a favorite for novice and professional designers alike. 
Best For: Small businesses, freelancers and entrepreneurs who want professional visual content but don't have graphic design experience.
Best Features
Canva's claim to fame is its wide array of features. Tailored for small businesses without graphic design experience, it breaks down the complex art of visual design into easy to understand steps that every user will appreciate.
Some of its best features include:
An easy drag-and-drop functionality
Thousands of photos, elements, and stickers to customize your image
Pre-made templates for every type of visual content imaginable, from social media to business cards to infographics
Hundreds of fonts, sizes, and formatting options for adding text to images
An in-depth design school full of helpful step-by-step guides and tutorials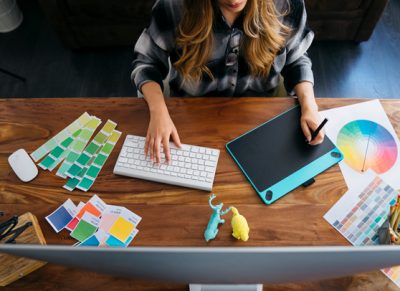 Canva has a free version that offers enough basic functionality to get the job done, but many of its best features are only available with a paid subscription. Things like premium photos, graphic animation, and cool editing tools can be unlocked by purchasing one of their reasonable paid subscriptions.
Canva Basic: Free
Canva Pro: $12.95/month
Canva Enterprise: $30/month
While Canva is a great app to have in your toolbox, it's not a replacement for an experienced and professional graphic designer. Many times, it's the subtle tweaks an experienced designer makes to a font size, a photo correction, etc. that elevates your marketing materials and makes them pop.
Contact the team at Front Porch Network for graphic design services.